It's time I head over to Italy, the Nardo test track to break a record. At a time as this, there are tons of cars to go with; maybe take them in turns to make that list.
Jaguar XJ220 broke a record at the Nardo test track and recalling a previous post on a concept car, Volkswagen W12 Nardo that broke a record later on.
Jaguar XJ220 is a concept car that was brought into fruition by a collaboration between Jaguar, a British luxury automobile maker and racing team owner Tom Walkinshaw.
The all wheel drive is not an all day supercar that when its name pops up sounds like one. The conception of the XJ220 was brought by a group of Jaguar employees whose aim was to create a car that would compete in 24 Hours of Le Mans.
Jaguar XJ220 25th anniversary was celebrated in 2017 which certainly would be a reminder to automobile enthusiast at it's time.
The supercar which is flawed but exceptional all in one. With a top speed of 212.3 mph at Nardo test track in Italy; making a record of fastest production car in 92′ and 93′.
Jaguar XJ220 has its ups and downs but it's only fair to say that despite the challenges that the supercar faced.
Firstly, a 6.2L Jaguar V12 engine was put under the hood but it's thirst for more made the engine inefficient then a new 3.5L twin-turbocharged Jaguar V6 engine was developed to replace the V12 engine.
Before having its show down at the 24 Hours of Le Mans and going on to win, the XJ220 was first entered into FIA Group B competition.
I guess all it takes is time to make the win needed, for it is known that there is a right way and right time to do everything.
In 1981, racing team owner Tom Walkinshaw approached Jaguar executives to enter the XJS European Touring Car Championship in which the partnership paid off in 1983, making Jaguar provide more support for the development of XJ220.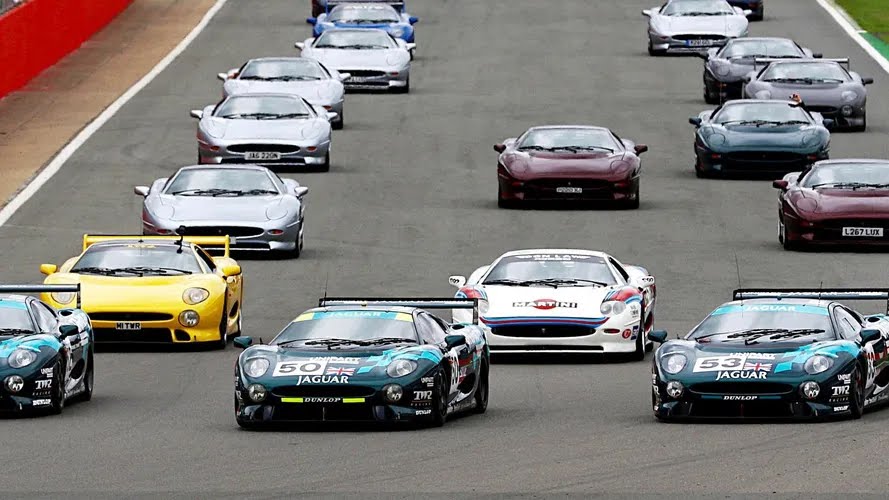 First unveiled at the 1988 British International Motor Show in Birmingham, England, as a concept car. That same year of rolling out to the public, XJ220 won the 24 Hours of Le Mans with its aggressiveness to gain into the hearts of enthusiast.
An idea conceived in the 80s and brought to fruition in the 90s.
In 1993, a road test at Nardo test track, reported a 0-60 mph time of 4.4 seconds, running a quarter-mile at 121 mph in 12.4 seconds. Never actually reaching the 220 mph that Jaguar aimed but going well into 200mph with ease.
Claiming a Guinness World record in 1993 at 217 mph without it's exhaust catalysts and rev limiter bumped up.
Jaguar XJ220 3.5L V6 engine produced 542 horsepower and 475lb-ft of torque with a 5-speed manual gearbox transmission.
Jaguar and TWR later built the XJ220 racing version, the XJ220C which made a run in the GT class at the 24 Hours of Le Mans in 93′ in which Jaguar finished two laps ahead of second place Porsche but ended in a controversial disqualification. The authorities said XJ220 had a run without it's standard exhaust system catalytic converters. It was not expected for Jaguar and TWR as they found themselves with more cars at hand than in demand by buyers. They sought a way out by having a telecast via ESPN's "Saturday Night Thunder" in the United States; a country where XJ220 wasn't certified. Although ten care were delivered to the Indianapolis headquarter in which the XJ220 would be driven by F1 drivers well over 50 years of age.
The race ended with three cars crashing out.
It didn't go down well but who would have complained because the race didn't happen in a country where XJ220 are authorized.
Original price: ~$831,000
Jaguar XJ220 Specifications
ENGINE: 3.5L DOHC 24-valve V-6/542 hp @ 7,000 rpm, 473 lb-ft @ 4,500 rpm
TRANSMISSION: 6-speed manual transmission
LAYOUT: 2-door, 2-passenger, mid-engine RWD coupe
L x W x H: 194.1 in x 79.1 in x 45.3 in
WHEELBASE: 103.9 in
WEIGHT: 3,240 lb
0-60 MPH: 3.6 sec
TOP SPEED: 217 mph